講演会
Symposium- Intercultural Communication for a Diverse Japan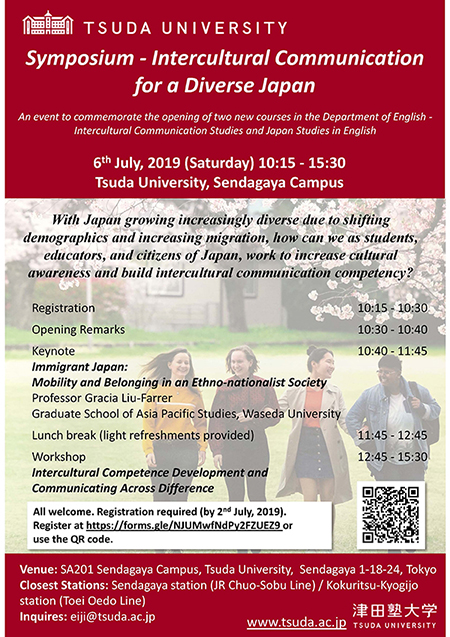 ---
On July 6th, a symposium was held at Sendagaya Campus to commemorate the opening of two new courses in the Department of English--Intercultural Communication Studies and Japan Studies in English. The purpose of the symposium was to increase awareness regarding Japan's growing diversity and offer participants a practical activity for building intercultural competency.

The morning started with a lecture on immigration trends and issues by Dr. Gracia Liu-Farrer, Professor at Waseda University's Graduate School of Asian Pacific Studies. Based on interviews with over 200 immigrants to Japan, Dr. Liu-Farrer shared research insights on immigrant identity, sense of belonging and mobility.

After lunch the afternoon program began with the members of the two new courses introducing their research and teaching. For the Intercultural Communication Studies course Professor Masayuki Nakanishi discussed intercultural communication as interpersonal communication, Professor Mark H. Wright covered intercultural differences in oral communication, Associate Professor Elizabeth I. Dow introduced ways to develop intercultural communication competency, and Assistant Professor John W. Cheng spoke about fake news and truth in storytelling. For the Japan Studies in English course Assistant Professor Aya Kitamura asked participants to reconsider "Japanese women" and their diversities and complexities, and Assistant Professor Alexandra Hambleton considered images of Japan in the media.

The final workshop focused on developing intercultural competency through the Story Circles activity—created by Darla Deardorf et. al for UNESCO—which aims to build understanding and respect. Participants divided into three groups and worked through the activity, reporting in the final briefing that they had been able to find common ground and see people as unique individuals as a result of the workshop.